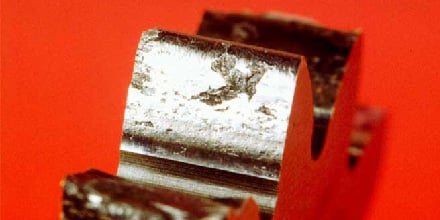 Learn from Your Lubricants
Lubricants contain a wealth of information about the health of our machines. When failure occurs, finding the root of the problem can save time, money and headaches down the road. If you're stumped by a recent or chronic failure problem, it might be time to call an expert.
Noria's technical consulting team can come onsite to help you conduct inspections and perform detailed Root Cause Analysis (RCA) of components such as rolling-element bearings, gears, engines, pumps and others.
Failure Analysis Services
Root Cause Analysis (RCA)
Tribological studies
Lubricant analysis (oil and grease)
Ferrography and wear particle identification
Accelerated life testing
Metallography
Other related services available
Frequently Asked Questions
How does the process work?
Failure investigations follow a sequence of steps that may vary somewhat depending on the nature of the failure, complexity and associated machine type(s). Each study is led by an experienced principal investigator (PI) with full access to all of Noria's resources. Most failure investigations require laboratory analysis of failed parts, filters, lubricants, sludge/deposits/sediment, varnish and/or wear debris.
The typical sequence of steps followed by most failure investigations are as follows:
Principal investigator (PI) is assigned to the case based on case type, relevant experience and statement of work (SOW).
Client submits a comprehensive case file with background information and discovery material (photos, operating data, failure history, timeline, troubleshooting studies, expert reports, lab work, machine drawings, etc.).
Case file is studied by the principal investigator.
PI makes site visit, inspects subject machine, interviews personnel, takes samples for analysis and establishes clear project objectives and timeline. A preliminary list of possible root causes is presented and discussed with the client.
Samples are forwarded to laboratory, and testing protocol for each sample is established. Budget of lab work is communicated to and approved by client before testing commences.
Lab data is analyzed and interpreted by PI.
Preliminary report of findings is presented to client, usually by conference call.
Final report of findings and remediation plan is written and submitted to client.
Post-report conference call is scheduled as needed.
What laboratories are used?
Laboratories are selected for each case based on the nature of the failure, lubricant type and required test protocol. Because of the hundreds of commercial contract laboratories offering services, a discriminating approach to selection can be made for the benefit of the client in achieving efficient and accurate case outcome.
What other services/tests are offered?
Here is a selection of other services and tests that Noria experts can perform or interpret. If you are looking for something not listed here, contact us and we will likely be able to fulfill your need.
Metallography and metallurgy
Grease analysis
Filter debris analysis
Wear particle identification and characterization
Particle contamination characterization
Infrared and molecular spectroscopy
Elemental spectroscopy (ICP, RDE, XRF, SEM-EDS, acid dissolution, etc.)
Gas chromatography/mass spectrometry
Radiological fluid testing
Chemical microscopy
ASTM lubricant performance testing
In-service oil analysis
Tribometry and film-strength testing
Microbial contamination testing
Aviation and aerospace fluid analysis
Fire-resistant fluids analysis
Varnish and sludge analysis